3385 Potomac Way, Idaho Falls, ID 83404
(208) 542-7246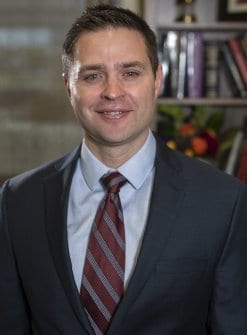 Dr. Russell is fellowship trained in interventional pain medicine. He completed both his anesthesiology residency and pain medicine fellowship training at The Ohio State University and is board certified. Dr. Russell has the highest level of training available for a pain specialist. He utilizes a multidisciplinary approach to pain treatment.
Dr. Russell was born and raised in Ogden, Utah. He graduated from Weber High School and Weber State University. Prior to medical school, he obtained his Master's of Public Health from the University of Utah. He attended medical school at Arizona College of Osteopathic Medicine where he graduated with honors earning his Doctor of Osteopathic Medicine (DO) degree.
Dr. Russell is committed to service. He served a two-year church mission in Mexico and has aided in medical missions in Peru and the Dominican Republic. Away from work, he enjoys spending time with his wife and daughters, reading, playing soccer, watching sports, cycling, running, skiing, and playing golf.